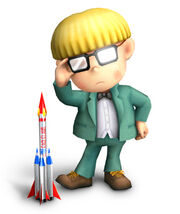 Jeff is a boy from Winters. He attended a boading school there but was called telepathicly by Paula to save her and Ness. He helps save the world from Gygas along with Ness, Paula, and Poo.
Ad blocker interference detected!
Wikia is a free-to-use site that makes money from advertising. We have a modified experience for viewers using ad blockers

Wikia is not accessible if you've made further modifications. Remove the custom ad blocker rule(s) and the page will load as expected.