Mabel is a hedgehog who works at Able Sisters in the town. Her sisters is Sable and Labelle. She and Sable are seperated from there other sister. They have known Nook for a long time.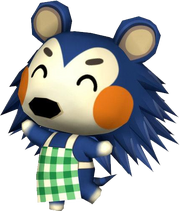 (See Sable's story)
"Well, so there's this cedar box that my sis keeps all her treasures in, right? And she's never showed me what was inside that thing. Not even once! But then, this one time, long ago, I saw the front of what looked like... an important letter. At least, that's what I THOUGHT it was..."
— Mabel on the ceder box Sable was sent, Animal Crossing: Wild World
"Yeah, so there's this pair of scissors that my Sis has been using forever, right? When they got too dull to use, I said she should buy a new pair, but... It was the weirdest thing! When I did, she completely flipped out on me! I know it's important to take care of your things, but... That's ridiculous!"
— Mabel on Sable's old scissors, Animal Crossing: Wild World
"Well, lately, at night, my sis has been sitting at the window, staring at the night sky. She says that in the winter, a certain constellation becomes visible... It's kinda weird.. the stuff my sis knows about... You know, constellations and meanings of flowers, that kinda stuff... "
— Mabel on Sable's knowledge of her constellation, Animal Crossing: Wild World
Ad blocker interference detected!
Wikia is a free-to-use site that makes money from advertising. We have a modified experience for viewers using ad blockers

Wikia is not accessible if you've made further modifications. Remove the custom ad blocker rule(s) and the page will load as expected.