Mario is a plumber-though he doesn't do much plumbing. He is mostly stopping the
King of the Koopas
instead. Mario is often saving
Princess Peach
from Bowser, and it is hinted that he has romantic feelings for her. He attacks by jumping on his enemies, but also uses punches and kicks. Another move he uses is the ground pound.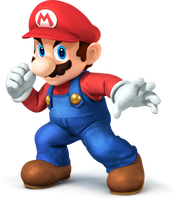 Jump-Mario jumps on top of his enemies
Ground Pound-Mario jumps and slams his body down
"Its-a-me, Mario!"
"Lets-a go!"
"Here I go!"
"Wahoo!"