Ness is a young boy with PSI powers. He has saved the world from Giygas, but Gygas's right hand man Porky Minch escaped through time.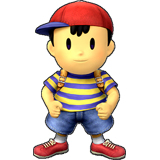 Bash-rams into enemy
PSI Rockin' -Lots of bright colors flash, doing damage depending on rank
PSI Flash-Makes a green ball of energy and throws at enemy
Baseball bat-hits with baseball bat
Yo-yo-swings yo-yo at enemy
Ad blocker interference detected!
Wikia is a free-to-use site that makes money from advertising. We have a modified experience for viewers using ad blockers

Wikia is not accessible if you've made further modifications. Remove the custom ad blocker rule(s) and the page will load as expected.